Want to taste an excellent pumpkin velouté? It's a simple, seasonal recipe that the whole family will enjoy. It is also possible to test the following recipe with pumpkins and pumpkins!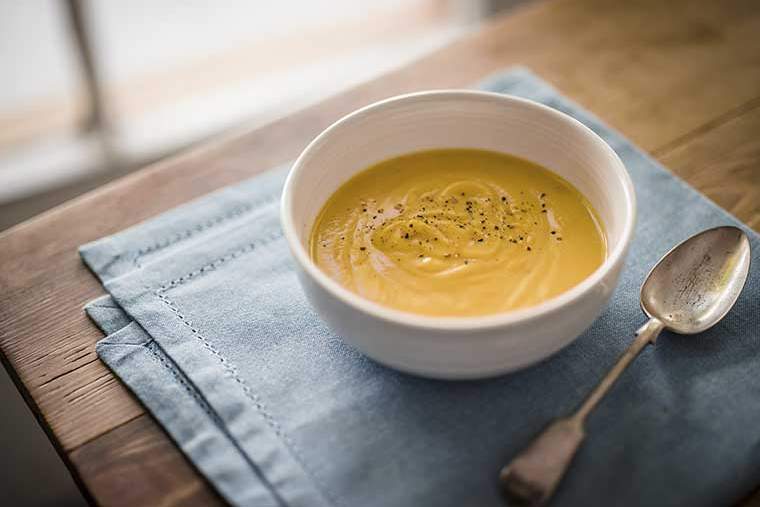 Pumpkin velouté recipe, step by step:
Ingredients for 5 to 6 people: 600 g pumpkin flesh, 250 g potatoes, 2 leeks, 50 cl milk, 50 cl chicken stock (or 2 cubes), 20 g margarine or butter, 2 onions, a little salt, pepper and possibly fresh cream, parsley and pumpkin seeds (optional).
1. Cut the pumpkin, remove the seeds and the skin. Then cut the pumpkin flesh into small dice. You can prepare more than you need: the diced pumpkin and pumpkin freeze very well and can be used for another recipe.
2. Peel and cut the potatoes into small cubes as well. Peel and coarsely chop the onions. Remove the dark green from the leek, cut the white into four lengthways and then into small pieces.
3. Then melt the butter in a casserole dish. Sauté the onions and leeks for about 5 minutes, without letting them brown. Then add the pieces of pumpkin and potatoes.
4. Heat the milk and pour it into the casserole. Add the hot stock or 50 cl of very hot water and 2 stock cubes. Leave to cook in a casserole dish for about 45 to 60 minutes.
5. The preparation can be served as it is (thus in a soup), passed through a vegetable mill, or finely mixed to obtain the famous velouté. Whichever you choose, adjust the seasoning before serving with salt and possibly pepper.
6. Present the very hot velouté accompanied by a pot of heavy cream or everyone can use it as they please. You can also optionally, when serving, sprinkle the velouté with chopped parsley or pumpkin seeds. Good tasting !